 How We Got Here. Foodinis.
Growing up in the 70's with Scottish parents, boiled meat, processed cheese food and canned veggies doesn't seem like the ideal seedbed for a young culinary mind to sprout. Look deeper though, and it's possibly just the right incentive needed to grow these gastronimical roots.
Rewind 30 years and find young John home from elementary school and looking forward to, not kickball or tag with his friends, but watching "The Galloping Gourmet" or "Julia Childs" preparing something special from scratch. No can openers, microwaves or cheese from a tube. Just a fascination with real, honest food, classically prepared. Of course, he didn't really know what he was watching, but he knew he loved it! One of John's first culinary creations at the age of 8 was to put pickled beets on his tuna fish sandwich. Yup! That's where it all began.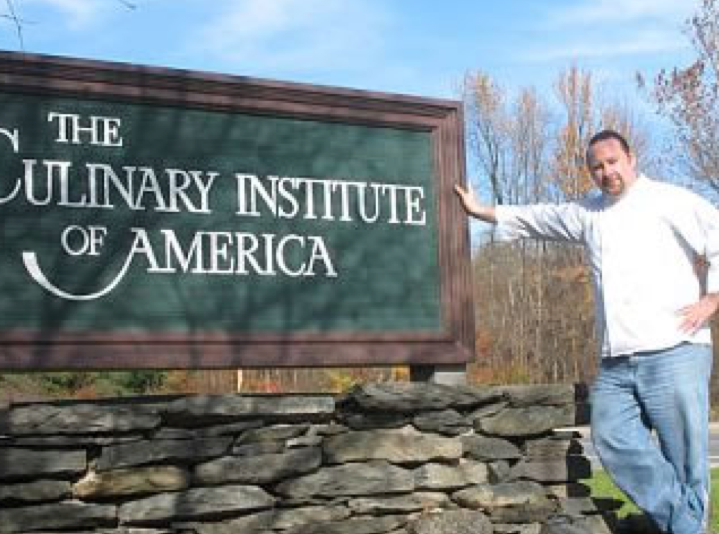 Fast forward to 1984 and John, now age 14, scored his first real food services job working as a dishwasher at a pizzeria in Woodstock, NY. Six months later he was making the pizzas and by 1985 he landed his first head lunch cook position in a small Woodstock bistro. Several restaurants ( and 8 years later), John attended the prestigious Culinary Institute of America and graduated with honors. He then set sail on a small cruise ship as a Sous Chef traveling throughout South America, Canada and the Coastal US.
Upon completion of his sailing stint, the young chef set ground in New Jersey and worked at two of the top rated restaurants in Monmouth County. By 1999 John was looking for something different. Seventy hour work weeks, holidays and weekends were getting old. So, Foodinis Personal Chef Service was born!
Chef John started out with one personal chef client, then two, and before you knew it, he was making a good living and having a blast doing it. He was now able to prepare exactly what he wanted and also get direct feedback from his clients. Something that rarely happens as a restaurant chef tucked away in the "back of the house". He loved this instant gratification and it just fed the fire and ignited his passion further. John soon found himself yearning to prepare meals on a larger scale and incorporated full service, off premise catering into the mix, while still servicing his personal chef service clientele. Chef John solidified his role as a prominent Jersey Shore caterer in 2007 when he purchased and built out his 1500 square foot commercial kitchen in Neptune, NJ. Chef John says, "it is truly a dream come true."
Bio:
1999-Current Off-Premise Caterer and Personal Chef Service
Past Fine Dining Restaurants, Hotels, Cruise Ships, Consulting
Education: Culinary Institute of America, Hyde Park, NY-1996
Hobbies: Gardening, Biking, Swimming, Music, Art, Spending time at the beach with Baxter and CC
Awards / Accolades / TV:
Catersource 2006 ~ Mystery Box Challenge Winner - 300 Hors D'oeuvres from mystery ingredients
Appearances NBC's The Today Show, CBS Market Watch, News 12 NJ & One on One with Steve Adubato
Contestant on Food Network's "CHOPPED" and "Taste Test"
Member:

Serving all of New Jersey
Let's start to make your life easier, healthier & happier!
We use the freshest possible hand picked ingredients and pride ourselves on integrity & passion. Our standards are very high in Foodini's Kitchen. Chef Deatcher has traveled extensively throughout South America, Europe,and the USA, gaining invaluable culinary knowledge and inspiration. John's dedication and gastronomic skills are evident in his worldly flavors which have no culinary boundaries.
START HERE